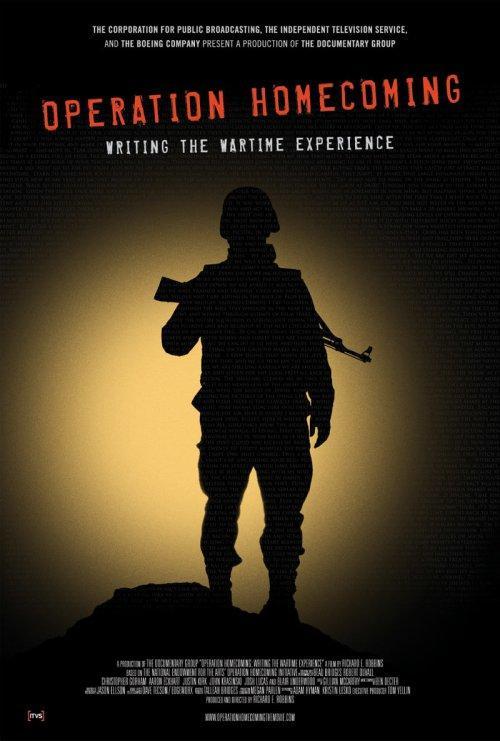 Directed by Richard E. Robbins
Reviewed by Martin Tsai
The National Endowment for the Arts in 2004 created Operation Homecoming, an initiative that dispatched writing coaches to military bases in Iraq and Afghanistan to conduct workshops that helped the servicemen put their experiences to pen and paper. The initiative has finally come to fruition with the publication of a 2006 anthology and the release of director Richard E. Robbins' eponymous tie-in documentary. Operation Homecoming prominently features 11 selections from the anthology – read by the likes of Beau Bridges, Robert Duvall, Aaron Eckhart, Justin Kirk, Josh Lucas and Blair Underwood – interspersed with interviews with the authors and various talking heads such as Jarhead writer Anthony Swofford.
While the soldiers' writings are certainly of interest, the film has virtually nothing to contribute to the current debate on the war in Iraq. The works selected for the film vary a great deal in quality, but they are all descriptive and draw you right in. With lyrical images, these first-person narrations could have turned into something powerfully meditative in the fashion of The Thin Red Line. Instead, Robbins has decided to present the literal visualizations of the troops' written work with a range of styles best suited for music videos. As a result, the film undermines some of the vivid imagery within the writing. Under Robbins' unimaginative direction, most of the segments are only comparable to B war films starring Chuck Norris.
One comes to suspect that a few of the soldier scribes have seen too many bad movies. Some of the writings are fairly trite, with the kind of over-the-top clichés you'd only expect from Hollywood. Clearly the worst of the lot is Camp Muckamungus, Parker Gyokeres' attempt at a humorous letter home that is mostly pointless and even potentially trivializing of the servicemen's experience. With animation, cheesy music and lame sound effects, Robbins fashions this misguided effort into some sort of frat literature.
Mike Strobl's Taking Chance emerges as the most memorable piece, detailing his journey accompanying a fallen solder's remains across the country for a hometown burial. But the segment stands out solely for Strobl's heartfelt writing, since Robbins shot it as if it's an homage to Diddy's "I'll Be Missing You" music video.
Films like Jarhead as well as docus like Gunner Palace, The War Tapes and The Ground Truth already render Operation Homecoming somewhat redundant. Since Robbins' film has such a narrow focus on the troops' literary endeavors, it isn't particularly relevant politically. With its action-flick aesthetic, it doesn't stake out a clear position on the wars in Iraq and Afghanistan. If there's indeed a massage, it's one that is pro troops. Many of them here voice complaints about their experiences abroad and at home: unexpectedly entering the war, enduring boredom and emotional trauma, expecting to be thanked when they return but people back home couldn't care less, etc. Overall, Operation Homecoming adds little to the soldiers' narratives on which it is based, saying nothing new and perhaps not much of anything at all.
© Copyright 2007 Martin Tsai. All rights reserved.