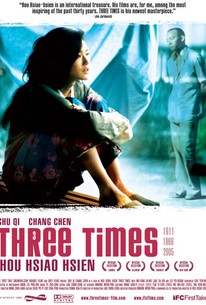 Directed by Hou Hsiao-hsien Starring Shu Qi and Chang Chen
Reviewed by Martin Tsai
If you haven't seen Flowers of Shanghai and Taiwanese auteur Hou Hsiao-hsien's other movies when screened in Seattle, Three Times serves as a fitting introduction to his body of work. Indeed, you could call it Hou Hsiao-hsien for Dummies. Set in three different periods, this triptych about love, time, and fate encapsulates the moods and preoccupations that have inspired him throughout his career. In each chapter, Chang Chen (Crouching Tiger, Hidden Dragon) and Shu Qi (The Transporter) portray three different couples, each pair with a unique dynamic reflecting the era.
A reminiscence about the simpler times of Hou's youth, the 1966-set "A Time for Love" follows a lovesick young man as he searches for a demure billiards parlor attendant during his military leave. Revolving around a 1911 brothel (à la Flowers), the silent chamber drama "A Time for Freedom" recounts the hopeless affair between a courtesan and a married revolutionary whose principles compel him to reject concubinage. In the vein of Goodbye South, Goodbye and Millennium Mambo, the fluorescent-colored "A Time for Youth" explores the fleeting physical intimacy shared by two soulless Gen-Y'ers in an emotionally vacuous 2005, when everyone is venting discontent via cell phone rants, text messages, and e-mail.
Through repetitions and variations, Hou again explores how the shifting times may ripple the surface of life, but not our deeper need for bonding. Each of the three stories is a mini-masterpiece in its own right, as we see innocence, doom, and desperation played out. Each segment has its own rhythm and visual vocabulary: slow motion for 1966, fades for 1911, and tracking shots for 2005.
For those who've previously complained about Hou being too slow and austere, the bite-sized structure helps make Three Times more digestible. It may also send viewers to their DVD players with new insight regarding Hou's back catalog. From this perspective, even more politically charged works such as City of Sadness or The Puppetmaster appear to be portraits of a people adapting to different historical circumstances. And while Three Times can be seen "only" as a collection of love stories, they may add up to possibly the definitive treatment of Taiwanese life—today, yesterday, and the day before that.
Reprinted from Seattle Weekly. © Copyright 2006 Martin Tsai. All rights reserved.